With the Paralympics starting in Rio on the 7th September we take a look at the inspirational sport of wheelchair rugby in encouraging active wheelchair users. You can't help but feel inspired by the Paralympic team to get out of the house and be active, and we provide a range of wheelchairs for hire that are adapted for outdoor purposes.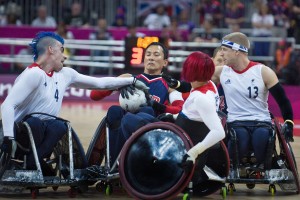 Mike Brown is well known for his performances as England's and the Harlequins' full back; he has won an impressive 48 England caps and a Six Nations grand slam earlier this year. What people may not be aware of is how heavily involved Brown is with wheelchair rugby, taking the title of sport ambassador. A beloved fan of the sport, Brown is like no other sport ambassador. After approaching chief executive of Great Britain Wheelchair Rugby, David Pond, to get involved, the rugby star actively contributes to the cause, making several donations to the British Paralympic team and the sport. He is actively trying to raise the profile of the sport through his involvement in time for the Rio Paralympics.
He is often part of the training games themselves, taking his hand to a chair to try out the sport. He notes how much harder the adaption is. We can't imagine the impressive skillset it must take to play in this challenging sport. Brown's first time saw him bumping into a wall as he lost control of the chair, whilst holding the ball and keeping his head in the game.
Brown beams about his involvement with the sport saying: "It's great that I can create a partnership with GB Wheelchair Rugby and just be involved in what they do." On the subject of wheelchair rugby Mike Brown commented: "Wheelchair rugby is fast-paced, physical and the enjoyment levels are the same!"
Brown became aware of the sport just before the London 2012 Paralympic Games after his fiancée's father introduced him to wheelchair rugby, after watching a documentary about the growth of the sport. Brown was instantly hooked. The first live game Brown saw was the 2012 Paralympics and since then he has become a devoted fan of GB. For Brown this sport is sentimental; his father suffers from multiple sclerosis and uses wheelchairs himself.
Brown is inspired by the talent of the GB players noting how they are a source of inspiration for many. Chris Ryan, captain of the GB players, was a talented golfer in his youth until he was seriously hurt in a car crash in November 2008. During rehabilitation Ryan discovered the sport of wheelchair rugby and his progress in the sport has been paramount since then.  On Ryan's achievements Brown said: "It's inspirational to hear his story, how he's bounced back and has captained Great Britain at the European Championships and will do soon at the Paralympics. How inspirational is that for people to hear? It certainly is for me. He's not let something as horrific and heart-breaking as that keep him down."