Advances in technology have allowed people to explore new, and previously difficult, places with the use of all terrain mobility scooters. We previously reported about how these nifty chairs allowed a disabled mountaineer to rediscover his love for the countryside. All terrain mobility scooters are perfect for off-road adventures, which allow people to make the most of the great outdoors and enjoy visits to the beach, with easy steering, turning circles and all terrain wheels which make for easy driving.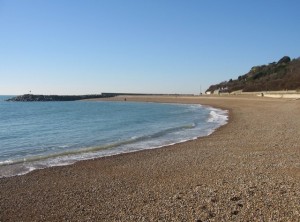 Standard wheelchairs are also starting to see innovative advances to make more places accessible for disabled people.
Sandbanks, in Poole, have been testing out floating wheelchairs that allow wheelchair users to have a more interactive experience with the beach.
Sandbanks have acquired floating beach wheelchairs that are made up of aluminium and stainless steel frames, secure harnesses and buoyancy aids. The innovative wheelchair allows wheelchair users to go into the sea, as the chair acts as a support for floating or swimming from, with the use of the secure harness and buoyancy aids.
The Borough of Poole beach team leader, Tracey Moore, said: "They have been a huge success, and very well received by both local people and visitors to the beaches of Poole…. We have received a lot of interest in the Floating Wheelchairs and it has been lovely to see people, who have unfortunately been unable to go into the sea previously, enjoy the experience."
This 'Life's a Beach' project was funded by Tesco and Groundwork's Initiative 'Bags of Help', where they were awarded £10,000 due to the token scheme vote by Tesco shoppers.
The success of this project could be the start of wheelchair users being able to enjoy a dip in the sea around the UK, including Devon, if the project is picked up. Meanwhile, a brilliant range of all terrain mobility scooters gives you the freedom to travel to explore a variety of places, including our beautiful Devon beaches.