A disabled mountaineer is once again free to enjoy the great outdoors, thanks to his chopper-style mobility scooter.
Bill Robertson, 66, was a keen rambler and explorer before ill health stopped him in his tracks. After being diagnosed with cancer and circulation problems, Bill is only able to walk a few steps at a time and was left housebound.
In his prime, he climbed Scotland's second highest peak, Ben Macdui, a massive 21 times before the health issues became too much of a hindrance.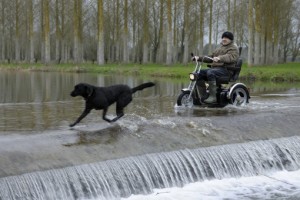 But now, thanks to the Supersport model from TGA mobility scooters, he is able to tackle the great outdoors again, which allows Bill the freedom to explore the tracks and trails of the countryside once more.
The three-wheel scooter, which resembles a Harley Davidson motorbike, is capable of taking on rough terrain. Bill is now delighted at being able to do what he loves once more, and said of his scooter: "I owned a scooter before my current Supersport, however, there was no way it could tackle muddy fields, slopes or rocky paths.
"Whatever the slope or terrain, you feel like the 'centre of gravity', totally stable and safe.
"After being stuck in my house for so long, the opportunity to get out to see the wildlife including kestrels and eagles in Hazelhead forest has been priceless."
If, like Bill, you are not able to enjoy the great outdoors like you once used to, why not take a look at the Supersport model on our website and get back to doing what you love once more!